Jen & Jim
UPCOMING GIGS
Sunday 15 December, 2019
Fyshwick Markets outside Plonk
12.00 pm - 2.00 pm
~
Tuesday 31 December, 2019
With full band
The Basement, Belconnen
9.00 pm - 12.00 am
Jen & Jim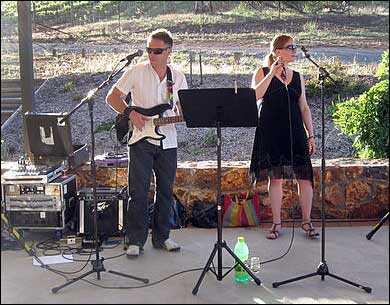 PAST GIGS
Saturday November 16, 2019
Smith's Alternative, Civic
4.00 pm - 5.00 pm
~
Saturday 18 May, 2019
Smith's Alternative, Civic
3.30 pm - 4.30 pm
~
Saturday 14 July, 2018
With full band
The Basement, Belconnen
7.50 pm - 10.30 pm
~
Friday 27 July, 2018
Vibe Hotel, Canberra Airport
4.00 pm - 7.00 pm
~
Friday 7 September 2018
With full band
The Basement, Belconnen
7.30 pm - 8.30 pm
~
Sunday October 9, 2016
Wilbur's - Hackett Shops
4.00 pm - 6.00pm
~
Sunday July 17, 2016
Wilbur's - Hackett Shops
4.00 pm - 6.00pm
Jen & Jim is a duo that plays unique arrangements of well known songs and original music for any occasion. Jenny Sawer's powerful soulful voice and mesmerising musicianship are seductively complemented by James Halligan's poignant harmonies and subtle guitar work. Jenny graduated from The School of Music, ANU with a BMus (1st class Hons) in 2004. She is a Canberra-based performer and vocal coach, teaching privately and at Girls Grammar Senior School. Jenny also conducts local choirs and composes and arranges music. She has recorded two albums of original music, 'Wild and Free' and 'Outrageous' with original blues and roots band Freyja's Rain. James is an unreconstructed rocker with almost 30 years experience playing live in various touring bands. He holds a BA from the University of Newcastle and has taught music in both the NSW and ACT TAFE systems. He currently plays in a number of local outfits. Find Jen & Jim on FaceBook and YouTube.
"The vocal and musical talent of Jen & Jim was sensational and they capped off what was a perfect wedding day for us, thanks for everything!!!!"

- Mario and Jo Carrabs
"Christian and I wanted to pass on our thanks to both of you for playing at our wedding. You were both so easy to deal with and you sounded fantastic. You helped make our night so much fun. Greatly appreciated."

- Jody and Christian Hillier
"I wanted to say how much I appreciated you volunteering your time to perform at the Lighting up the Moon fundraising fashion show.
I personally am basking in the accolades as I suggested you and James for the event!
Everyone enjoyed the event and you have such a beautiful voice, it was all perfect. Thank you again!"
- Dale Forrest, NLA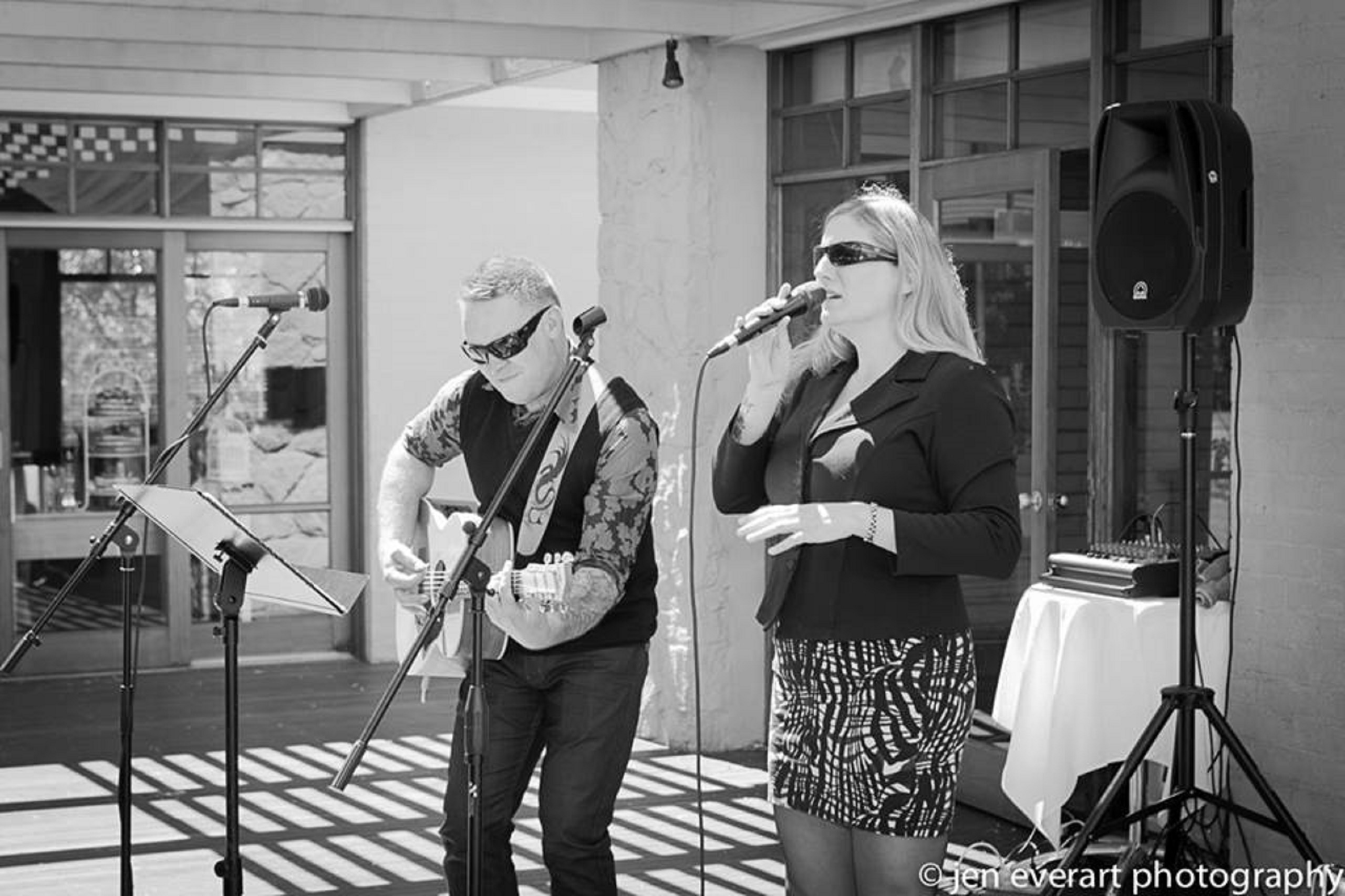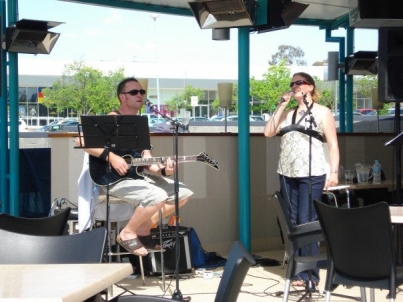 Jen & Jim performing at Wests in Jamison
To hire Jen & Jim or find out more information, please contact Jenny at jennysawer@gmail.com or
on 0403 516 554.